The story of <PubML>® is an unusual one.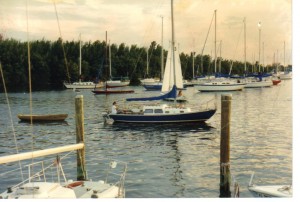 In 1983, at age 18, while working on the Christo Surrounded Islands Project on Miami's Biscayne Bay, I encountered a unique community of colorful characters living on boats in Miami's free Dinner Key Anchorage. Though commonly thought of us a village of "derelicts and bums," the anchorage turned out to be full of capable, well-traveled, talented, and inspiring characters. Stories of ocean passages, crystal waters, and verdant islands enchanted me. I wanted stories of my own and knew exactly what I'd be doing when I finished college.
In 1987, I bought my first Macintosh Plus computer. Even with one megabyte of RAM and no hard drive, it was the most powerful personal computer available. I was a jazz guitar major at the time, but digital graphics captivated me. This led to after-school jobs with software and graphic production companies.
Around the same time, I bought an old, fixer-upper twenty-six-foot sailboat and christened her The Blue Monk after the Thelonious Monk composition. By my senior year of college, I was living aboard full-time.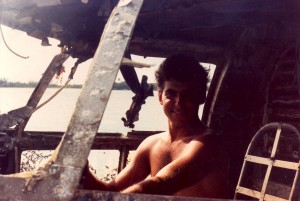 In 1989, six months after graduating, I set off across the Gulf Stream to explore the Bahama islands with a boat full of food and about $30. I returned after six months, worked in graphic production for another six, then headed out again for a 14-month cruise to the Bahamas and across the Atlantic to Gibraltar. I always knew I'd write about my experiences some day. I took notes, shot photographs, paid attention, and always chose the steeper, longer path.
As planned, I returned with my hoped-for stories of ocean passages, crystal waters, and verdant islands.
Back in the land of clocks and calendars, I resumed my work with digital graphics and incorporated my own graphic design studio in 1995. Work was slow in the beginning so I accepted a week-long job piloting a boat to the Bahamas. In my duffel bag was Teach Yourself Web Publishing with HTML in a Week by Laura Lemay. I did and never looked back.
My web design practice grew; I worked with everyone from Mom 'n' Pop to Fortune 100 giants. I built really wacky animated sites, won an Adobe Site-of-the-Day award, and received honorable mention in the Adobe Design Achievement Awards.
In the late 90s, I started teaching university classes—mostly because I knew about technology; I had no formal academic training in design. But when I realized my students knew more about the subject than I did, I hit the books, studied the history of the craft, and eventually earned my MFA degree.
But my stories weighed on me. I'd seen remarkable things, visited astonishing places, and met inspiring, colorful people. I still wanted to share them. Such is the nature of story.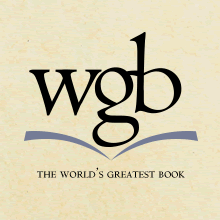 In 2007, I was contacted by an author who wanted book covers and a website designed. Thus began my odyssey into the world of books and publishing. It wasn't long before I had written and self-published three novels of my own based on a friend's remarkable sailing adventures. I wrote and published The One-Hour Guide to Self-Publishing, and started TheWorldsGreatestBook.com, a blog for self-publishers.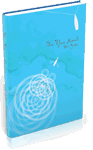 With some knowledge and experience under my belt, I finally began to write my stories. I wrote individual stories in no particular order, arranged them into a story arc, spent a year with an editing group, went two rounds with a professional editor, typeset the book to 1920s "hot metal" standards, and created a classic hardcover edition of The Blue Monk.
But something was missing. My stories were about something much larger than myself. I wanted to give voices to my co-conspirators. I wanted to give context to the places I'd been. As a designer, I wanted to show as well as tell. And yet, I wanted to honor the traditional art of book design.
I looked around but none of the popular eBook formats or proprietary eReader technologies could deliver what I wanted. App stores wanted a piece of my pie, and after developing for the free and open web for two decades, that felt wrong to me.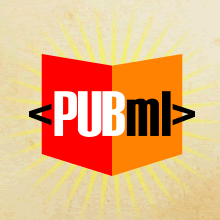 My solution is the <PubML>® eBook format, a blend of traditional book design with multimedia where maps, photos, and videos are subordinate to the reading experience. The <PubML>® version of The Blue Monk runs in any up-to-date web browser. It contains over 350 video clips, 200 photos, 100 photo footnotes, and 80 interactive maps—and none of them clutters the text. <PubML>® eBooks are pure HTML5; they require no server or database interaction and can be run from your local drive. And the format is open-source so you can tell your own story.
But most writers aren't programmers. I developed a set of intuitive, visual tools that empower anyone to create beautiful, rich-media <PubML>® eBooks. You can even export books to traditional ePub format.
The rest of my story is my next adventure. I'm launching an eBook format and publishing tools. Where the winds and seas will carry me is a mystery. I may sink, float, or fly; c'est la vie.
What about your story? All those memories and old photos? Your current journey? Your voyage dreamed of but not yet taken? If <PubML>® offers you tools, an expressive medium, or inspiration, I will have succeeded at living by that largest of literary themes—the search for meaning.
Thank you,
—Dave Bricker, May, 2014